Stamped concrete, sometimes called imprinted or textured concrete, replicates stones together with slate and flagstone, tile, brick, and even wooden. The extensive styles and color choices make it popular for beautifying patios, pool decks, driveways, and greater. Let's explore the various stamped concrete patterns you can choose from.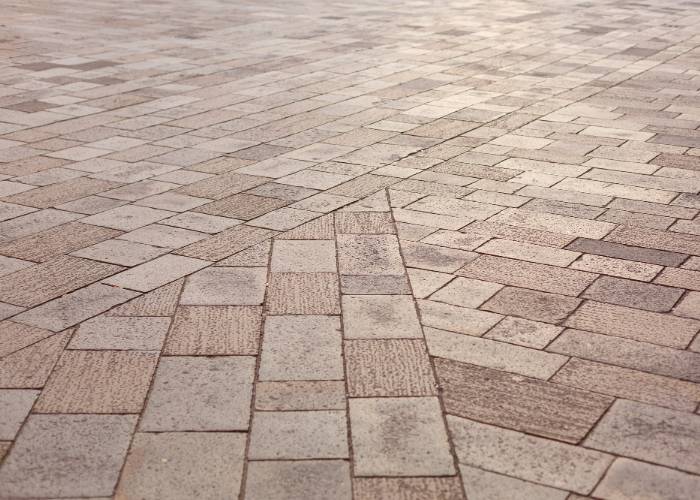 Various Stamped Concrete Patterns for Your Home
The most popular stamp pattern is the Ashlar slate. There are different sizes of Ashlar slate depending on what manufacturer the stamp contractor purchased his stamps from.
The wood look is very popular. You'll be able to make concrete look like wood. Wood stamp patterns are available in 6-inch, 12 inches, and 16 inches wide.
Concrete stamped in resemblance slate is a great surface for all patios, walkways, and pool decks. This stamp pattern highlights the slate texture. The stone texture pattern gives the concrete the look of real stone.
This pattern is available in numerous stones size and random shapes stones. The uneven grout lines provide the concrete with the appearance of real stones.
Roman slate looks decent for any patio. Most of the browns and tan color combinations go well with this pattern. The Roman slate texture is quite common.
Stamp pattern in the slate family with a slightly different texture.
0Id granite texture is quite popular for stamping concrete stairs and steps. The veins in this stamp pattern make it look like real granite. A gray integral concrete color with charcoal release gets you natural granite colors.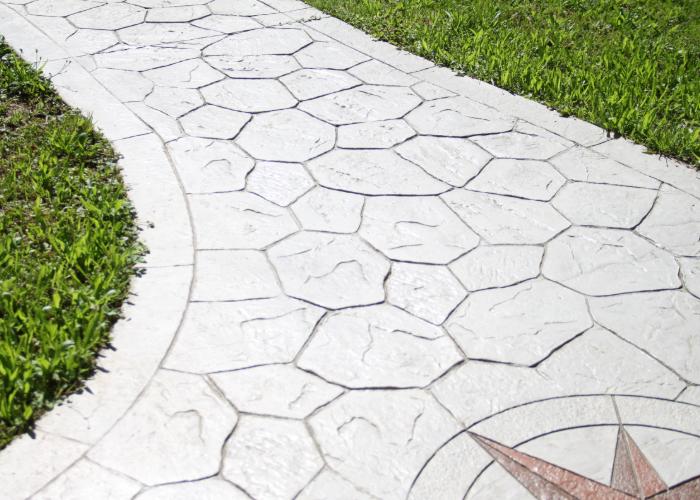 Is stamped concrete still in style?
Stamped concrete is a common choice because it can be made to look like higher-end materials like brick and stone pavement at a fraction of the cost.
Is stamped concrete worth the money?
Many house owners wonder if the cost of installing a stamped concrete patio or driveway is worthwhile. Yes, because it improves your home's curb appeal and aesthetic value, allowing you to maximize your return on investment.
Is stamped concrete more expensive than regular concrete?
While the price of stamped concrete may be higher than that of asphalt or plain concrete, it is often comparable to, if not less expensive, installing natural stone, flagstone, brick, or precast pavers. The main reason is labor—contractors believe it is more cost-effective to pour concrete and apply a pattern than place individual paving units by hand.
Let's consider a few important factors:
Longevity and upkeep.

Stamped concrete is usually more rugged and requires less maintenance than other paving materials, resulting in significant cost savings over time.

Increase in resale value.

It improves the aesthetic appeal value of your home, letting you get the most out of your investment.

Which is better, paver or stamped concrete?
Many homeowners struggle to decide between stamped concrete and pavements when designing a patio, walkway, or driveway. Consider the benefits and drawbacks of each factor.
The colors of the stamped concrete design are not usually integrated throughout the entire concrete slab. Instead, it is a layer or treatment applied to the top of the slab. As a result, the color may fade with time.
Poured concrete typically has a PSI of 3,000-4,000, whereas pavers have a PSI of 8,000 or higher. Pavers are much tougher than stamped concrete and are more resilient to freeze-thaw cycles. Control (or expansion) joints must be used to make stamped concrete more resistant to cracking. However, it will eventually crack even with the joints, just like any other concrete slab. Furthermore, joints usually cut through the pattern, diverting attention from the overall appearance. Pavers do not demand expansion joints, and if a paver is damaged, a standard paver can be easily replaced rather than replacing an entire section.
From a design perspective, there's no contest. Stamped concrete is now available in a wider range of styles, colors, shapes, and textures, allowing you to combine pavers to create intricate patterns. Stamped concrete features with intricate patterns however can be complicated and expensive to create.
INSTALLATION CONSIDERATIONS
Compaction and base preparation is critical but poured daily weather conditions can greatly influence concrete. Rain, cold, heat, and humidity can significantly impact dry times, strength, and finish. Pavers do not have to contend with these factors because they are manufactured in a controlled environment and thus can be guaranteed.
MAINTENANCE CONSIDERATIONS
To increase durability, both stamped concrete and pavers should be sealed regularly. On the other hand, stamped concrete may necessitate the more frequent application of sealant to achieve comparable durability; it also increases the cost of lifelong maintenance, but the sealant can also impact the color of stamped concrete and make the surface slippery. On the other hand, Paver sealant does not affect the color (unless a Color Boost or Wet Look sealant is used), and pavers sustain their slip resistance.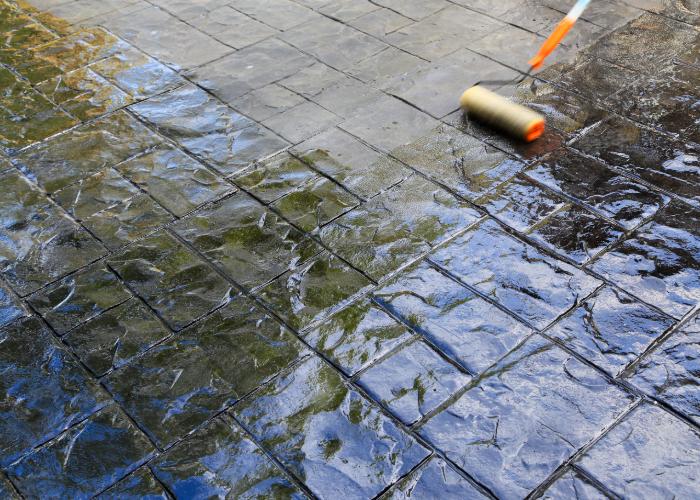 Stamped Concrete Quote
According to Home Advisor, stamped concrete costs an average of $4,428 or anywhere between $2,705 and $6,266. Contractors charge around $8 to $28 per square foot, depending on the project size and design intricacy. The average quote for a stamped concrete patio is $2,600, while driveways are roughly $11,520. For a walkway, plan to pay roughly $3,600. An internal floor in one room is generally $5,760.
Is stamped concrete less expensive than pavers? 
Although it differs by market, the price of a stamped concrete installation is usually very similar to the cost of a paver installation. A stamped concrete patio will almost certainly need to be patched or replaced at some point, whereas a paver patio is guaranteed to last the life of your home. So, even if you save a few dollars upfront (which is not always the case), you'll eventually spend more in the long run.
The most common stamped concrete pattern is the Ashlar slate. Stamped concrete is an ever-growing popular choice to add aesthetic value and curb appeal to maximize the return on your investment. The opinion of an expert is always invaluable.
If you require stamped concrete services, reach out to us at Rhode Island Stamped Concrete Services and schedule a quote.