Hiring the right stamped concrete contractor in Rhode Island makes all the difference in the finished project. An inexperienced contractor might overlook important details when it comes to stamping and then staining or tinting poured concrete. Consequently, you might end up with a disappointing outdoor space, or even one that's downright unsightly.
Since finding the right contractor is so vital, consider some quick tips for making your selection. Then, discuss any concerns you have with a stamped concrete installer near you. Asking the right questions is an important step in ensuring an installation you'll love!
Ask Friends and Neighbors About Their Rhode Island Stamped Concrete Contractor!
An excellent choice for finding a stamped concrete contractor is to ask someone who has had this work done! If you've admired a friend's or neighbor's patio, driveway, or another stamped concrete surface, ask for their contractor's name. There's a good chance that they'll be happy to tell you who handled their project.
Also, you might simply ask others if they know someone who has had a stamped concrete installation. Chances are a coworker, friend, or family member knows someone with a stamped concrete exterior space. They, too, might be happy to share their contractor's name and contact information.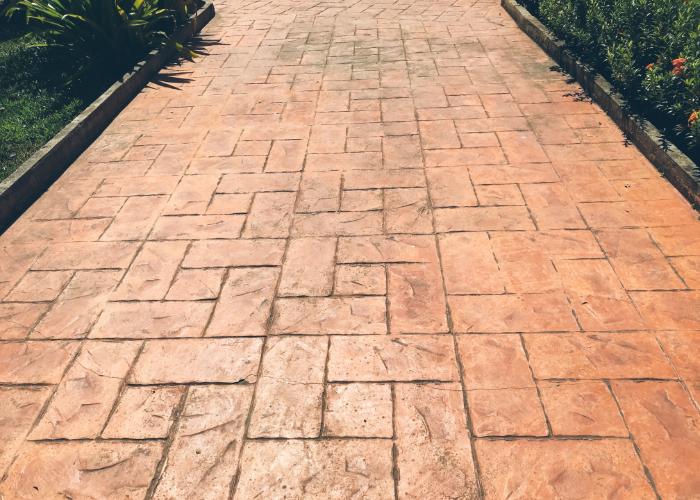 Check Websites Meant for Contractors In Particular
When hiring a contractor, you might check his or her Google reviews. However, it's also helpful to check reviews on sites meant for contractors. These might include Angie's List or Angi, Houzz, Thumbtack, and others. Former clients might be more likely to leave honest reviews on these sites. You might also find more reviews on these sites than Google, so you find more potential contractors for your project.
Never Choose a Contractor By Price Alone
Homeowners are often tempted to choose the cheapest contractor in Rhode Island. This is understandable, as many such projects run into the thousands of dollars. However, investing in quality is typically the best choice, despite its higher price.
One reason to choose a reputable contractor is that he or she is more likely to guarantee their materials. Also, cheaper contractors might not have the team needed to offer a quick installation. In turn, they might take several days to complete a project that another contractor might finish in just one day!
Additionally, note that stamping and staining concrete takes skill and experience. A cheaper contractor might lack that expertise, so you end up with an unsightly finish. On the other hand, investing in quality means a finished project you're sure to love for years to come!
Always Check Past Stamped and Stained Concrete Projects
When interviewing potential contractors, always check their past projects. An experienced, reputable contractor will be proud to show off their past work! Additionally, their portfolio can give you an idea of their expertise. Also, pictures of their work can help you choose the right pattern and color for your space.
Above all, be wary of a contractor who doesn't have a portfolio or who only offers a few limited options. Quality contractors should have a wide selection of concrete stamping patterns and stain colors. On the other hand, an inexperienced contractor might only offer a few choices.
Get Everything in Writing and Read That Contract!
Homeowners should avoid any contractor who doesn't offer a written contract. Additionally, you should read that contract carefully! Ensure it includes a final price, without hidden fees or charges. Also, it should outline your payment schedule.
Contracts should also include start dates and completion times, and any sanctions if the contractor doesn't finish on time. For instance, will you get a discount for every day they go over schedule, or if they need to delay their start date? In many cases, a contractor might need to delay their schedule due to inclement weather. However, most other cases should include some type of discount for the property owner.
Lastly, ensure the contractor offers a guarantee of quality for both materials and their labor. That guarantee should also extend more than just a few weeks or a month! After all, concrete itself usually last for years before needing repairs. In turn, a reputable concrete installer should stand behind their work and the materials they use for installation.
Rhode Island Stamped Concrete Services is happy to offer these tips for hiring a stamped concrete contractor in Rhode Island. Hopefully, these tips help you when you're ready for a concrete installation. To get your property started with a FREE quote, give us a call! We'll schedule a convenient appointment and discuss your property, budget, and options. For more information, call us right now!